Post by Mythra Ogith on Aug 6, 2017 17:02:37 GMT -5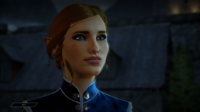 Account Name:
sammi9001
Display Name:
Mythra Ogith
Character Full Name:
Mythra Ogith
Nickname(s):
Points
Race:
Elf
Birth date:
19 Guardian 8 Dragon
Gender:
Female
Birthplace:
Dalish Clan just outside of Antiva City
Height:
5'2
Build:
Lean
Marital status:
Single
Class:
Rogue
Specialization:
None
Occupation(s):
Mercenary, casual trader
Companion(s):
Wolf named Pirsan

Hair:
Long medium brown, normally worn up, braided into a bun
Eyes:
Large, blue as the sky, able to pierce through a normal person with just one look
Other:
Black tattoo just under left eye, delicate pattern. Smooth mocha skin peppered by beauty marks on forehead and cheeks. Large, full lips that are commonly left naked. Very little makeup is worn, though she sometimes darkens around her eyes with dark kohl that makes her appear almost wild.
Weapons:
As a mercenary, her body is littered with weapons. Three of note are the two red steel daggers strapped to her back and the small hunting knife she carries on her belt.
Usual Garments/Armor:
Steel Splintmail armor set fit for a mercenary.
Inventory:
Small coin purse, used to purchase treats for Pirsan while in town. Weapons in every available pocket, small vials of various poisons wrapped in layers of cloth to prevent breakage. Small sewing kit, bandages for first aid, lines and hooks for fishing.

Basic Skill(s):
Cooking, Fishing, Sewing, Bartering, Rudimentary First Aid, Hunting
Trade Skill(s):
Guarding, Defense, Adept at combat, Poison making, Stealing
Languages:
Common Tongue (fluent, illiterate), Antivan (fluent, illiterate), Elvish (conversational, illiterate)
In-Game Skill(s):
Coercion, Improved Stealing, Expert Poison Making, Improved Combat Training
Combat Talents/Spells:
Sustained Abilities:
Stealth, Stealthy Item Use, Dual Striking, Momentum
Passive Abilities:
Deft Hands, Improved Tools, Dual Weapon Training, Dual Weapon Finesse, Dual Weapon Expert, Combat Movement
Activated Abilities:
Below the Belt, Deadly Strike, Riposte, Dual Weapon Sweep, Flurry
Mistrustful of everyone but her wolf, Mythra has always kept people at an arm's length, preventing anyone from becoming too close. To keep people from asking too many questions about her, her sense of humor has gotten her in trouble once or twice. Dry and dark, it turns anyone who might want to know more away.
To keep from alienation on the road, she tells stories around the campfire. The stories feature her years living on the streets of Antiva City, greatly exaggerated and embellished. Able to drink her weight in ale, her stories better tenfold while drunk.
Cold and committed to her work, Mythra is what some might call an enigma: a loyal mercenary. While not loyal for reasons of belief or ideology, she is pragmatic in her decisions; she has always felt the better option in life is to shut up and do the work that you're paid for. A smaller guaranteed paycheck will always be better in her eyes than a larger possible paycheck.
Mythra Ogith was born in a Dalish Clan in Antiva to Lanara and Varin. The clan had been resting just outside of Antiva City at the time. Varin had never proved himself to be a good father, rather, spending what little he earned from odd jobs in the clan on drinking and gambling with other men of the clan. When Mythra was only three, he left, never to return. Preferring to spend her time alone in the woods just outside of the camp, Mythra encountered many animals in her time there. Because of this, Mythra had always been a friend to any animal she met. She enjoyed the quiet nature of animals, the work of gaining their trust, and the companionship she would receive after. The halla of her clan developed a special relationship with her, and allowed her to become a young apprentice to the halla keeper of her clan.
Unbeknownst to Mythra and the rest of the clan, Lanara planned to flee the clan after general dismay with the lifestyle. On the trip when Mythra was twelve, they encountered an irate and drunk group of humans just on the outskirts of town. After attempting to avoid the group, they became indignant, and instead decided to attack the two elves. Lanara told Mythra to run as fast as she could, and not to look back. She did. After a few hours of hiding in the woods, Mythra returned to the area the fight had taken place in, and found her mother's dead body on the ground. Her clothes had been torn, her face bloodied and bruised. After what seemed like an eternity of gut-wrenching, sorrowful, painful screaming, Mythra returned to her clan to share the news of her mother's death. Unaware of Lanara's plot to flee the clan, they welcomed Mythra with open arms and a slight confusion of their intention to go to town.
After her mother's death, Mythra became disenchanted with the world. She lost interest in being the halla keeper of her clan, stopped her training to become a hunter, and at the age of fifteen left her clan permanently. She fled to Antiva City, living on the streets, stealing food and money from anyone unlucky enough to cross her path. During this time, she learned her dirty fighting style, fighting from shadows and developing mild poisons. She had learned from a wandering assassin who had spotted her stealing a coin purse from a shopper at the market. He taught her the basics of poisons, how to use them, how to store them, and most importantly, how to make them. After years of living this way, she found a traveling mercenary group passing through Antiva City, looking for one more. With her poison knowledge, and her dirty fighting style, they welcomed her to the group.
Traveling in a group of more than twenty people at a time was strange to Mythra, as she had considered herself alone for so many years. The last time she had been in a group of so many had been with the Dalish. It brought strange memories back, nostalgia for the home that she had abandoned, but remembrance of her anger at the lifestyle after her mother's death, anger at her father, the father she barely knew. Adjusting to friendly conversation had taken time, time that she spent sharpening her daggers, and collecting as many knives as she could stash on her body. It's during this time that her traveling companions had nicknamed her "Points" for her pointy elven ears and her constantly sharp daggers and knives. The nickname both suited her and grated her nerves. Her daggers were her lifeline, the only thing that truly belonged to her during this time, but the knowledge that her most defining feature was the one that her mother was killed over was a solemn reminder that no one saw her as Mythra; they saw her as an elf. Eventually, life began to make more sense to her: do what you're told, get paid, and eventually, die.
Since her departure from her clan, Mythra had not had much contact with animals, save the rats in the sewers she used to frequent. Even those did not welcome her presence, scurrying away without so much as a second thought. Yet, out on the open road, travelling across Thedas, she encountered all kinds of animals. Kinds she had never seen before, kinds she had never thought could exist. She befriended each one she could. On one of her stops in a town, she found an old tome, simply titled: Manual: Ranger. Flipping through the pages, she saw hundreds of ways to befriend animals and gain their trust. Without a thought, she bought it. On later inspection, it appeared to be nothing more than a generic way of treating animals, to connect with them and become a companion to them.
Just outside Nordbotten on a year long job, a pack of grey wolves had been killed by a wandering group of salesmen and their guards, disregarding the wolves' passive nature to humans. While investigating the pack, Mythra found a pup that had survived the massacre, clinging to its mother's neck. Mythra took the pup that day, and has had him ever since. She named him Pirsan, and taught him to guard along the roads at night, to help in fights, to play during storms. He has since been her closest companion, her most trusted friend, and her greatest ally during fights. Others have not seen him that way. Many of the other mercenaries in her group fear Pirsan, saying that he growls at them during the night, that they fear he will attack one of them, unprovoked. Mythra disregarded these fears until one night Pirsan didn't recognize her as she made her way back to camp through the thick brush surrounding them. He cornered her against the trees, and made his way to her, teeth bared and growling. As he got closer, he began to realize who she was, and stopped, liking her face and whimpering. At that moment, she knew he was still wild at heart, that she had not fully tamed him yet.
Mythra has spent years in the travelling mercenary band that she's grown to know as home. Years before she returned to Antiva with them, years before she heard rumors of the clan that once was her family; rumors that they had moved to the Kocari Wilds after the last Blight. But, once she did hear rumors, waves of memories crashed over her. How happy she had felt as a child, how much she had loved the halla under her care. The love she had felt for her mother, the anger at her father. Not all of the memories were good ones, and that's why she left the clan. But the longing of people of her own, people that wouldn't judge her and call her Points. People like her. Looking back at the mercs one last time, she decided it was time to leave them and find her people. Time to go to the Kocari Wilds.