Post by The Maker on Sept 3, 2017 14:43:45 GMT -5
August 2017 Featured CharacterNiamh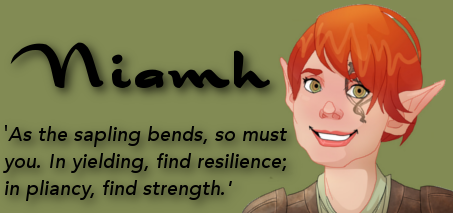 Which characteristic would you say defines Niamh?
Empathy. Niamh struggles with many things; she had difficulty dealing with ambiguity, makes large assumptions about the world around her, struggles with disappointment, is quick to anger, and is often far too literal minded for her own good. But she has a good heart and understands how people feel, doing her best to remind people that those feelings are valid and working to ensure they're happy. She'll sit down with you if you're sad, take you on a small adventure if you're lonely, laugh at your jokes, and cheer for your victories. Niamh cares deeply for everyone. I think that's really nice.
What was the most important event in Niamh's life to date?
Anders' "death" has probably challenged her more than anything else. In the time since leaving her clan, she's gone through a great deal with him. Some of it was good, a lot of it was messy. Losing him was a wake up call; it was a reminder that she needs to take care of herself and stand tall. I don't know if she'll always succeed but it kickstarted a lot of maturity on her part. Both as a Grey Warden and as a person.
What was your favourite thread that Niamh was in? Why?
This is such a difficult question! It's easy to look at the more romantic threads and pick from those. There's been so many ups and down between her time with Anders and Moira. But I think my favorite thread is 'Better Read Than Dead.' Watching the new recruits struggle to learn about darkspawn and play off one another is pretty amusing; it's probably also the most insufferable Niamh's been and it was very challenging (but fun) to write her with more assertion that she'd ever muster in front of Nate or Cauthrien.
Does Niamh have a dream? What is it?
I think that in spite of all the weight of reality pushing down on her, Niamh still wants to be a hero. She wants to have a song written about her and make everyone proud of her. It's an arrogant dream in many ways but she grew up dazzled by stories of brave heroes saving the day. She wants to help people and, in doing so, she hoped that there might be a fireside tale about her that will inspire someone else to run off and help others in turn.
What do/would your other characters think of Niamh?
I have to imagine that Athenril would think she was an absolute idiot. She's so jaded by comparison and Kirkwall's such a rough place that Niamh's optimism probably seems idiotic to her. Cordelia hasn't met Niamh yet but when they do, I think she'll be amused even if she'll likely feel a bit superior to her. Cordelia's kind but Niamh's lack of formality might bristle her a bit. It'll be fun to see how that plays out.