Post by The Maker on Oct 2, 2017 22:20:04 GMT -5
September 2017 Featured CharacterDelilah Howe Price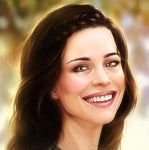 Which characteristic would you say defines Delilah?
Her warm and personable nature. It's not as developed in the earlier dated threads (pre 9.31) but it's prevalent in almost all of the threads dated after that time. It's safe to say that Delilah believes that every stranger is just a friend she hasn't met yet. It also means that she is always ready to champion those who are already in her life and support them as best she can in whatever way she can.
What was the most important event in Delilah's life to date?
It sounds stupidly obvious but being the daughter of Rendon Howe has been the most important event in her life. Her entrenched values and principles come from the fact that her father had none and her loyalty to friends and family is a reaction to the dismissive and callous behaviour she and her brothers experienced as children. Everything that Delilah does is intended to prove that she is not her father's daughter in any way.
What was your favourite thread that Delilah was in? Why?
I've been really lucky to have so many characters willing to thread with Delilah across the IC years! She's been scared and frightened with Rufus and Tanidahl, dreamily in love with Albert while talking to Tomas, brave and knowledgeable with Clara and Asa... and there's still more with Nathaniel, Ferren, Velanna, Kiley, Quinton, Constance and Teagan! All of which is my way of saying it's really
really
difficult to pick out a favourite. But for the simple fact that the budding friendship between these two has taken both me and Asa's player by surprise, I think that
Missing One of These?
has to be a favourite. It's during this thread that the first seeds of friendship were sown (and an OOC insistence that their respective children be betrothed, as you do) and I'm excited to see how our plot plans influence and develop that friendship.
If there was anything you could change in Delilah's RP history to date, what would it be?
Given that Delilah hasn't been around on the boards for that long, there isn't anything which I would want to change about her RP history. I would hope that even if there had been something truly awful (her husband being brutally murdered, perhaps?), the subsequent development in her character would be reason enough not to regret it or want to change it. But that's easy to say when there's nothing that bad to regret as yet
Does Delilah have a dream? What is it?
To live happily ever after with her husband and two children while surrounded by her friends. ... It's good to dream, right
What do/would your other characters think of Delilah?
Safe to say that Innes and Leliana would adore her. Bethany would likely keep her at arm's length to try and maintain some personal distance. Mathis would resist all attempts at interaction incase she found out too much about him.